Monday the 9th of January
Flexity's 101 & 102 go into service, 104 arrives in depot.
Scroll down for more images
---
Ten to Six in the morning after some of us had been up until 3am watching Flexity 104 arrive.
"The Phonj", Bill, Simon and Brian catch Flexity 102 at stop 17, becoming the first paying passengers
on a scheduled Flexity service. While some of the people named are present in this photo I'll leave it
up to you to decide who is who.

---
Approaching Stop 19 after boarding on Stop 17. The conductor never had seen so many passengers on this run !

Half a dozen more enthusiasts boarded at Stop 19 and more again at the terminus as well as a number
of "normal passengers". We then travelled uneventfully to the city and back.
---
We're greeted by a band on our return to Glenelg

---
This thing waved merrily ... Hello cheerful yellow thing ????

---
"baytram366", Rod and I hung out in Moseley Square waiting for the 8:06 to Adelaide.
In comes 101 direct from the depot to fill this slot.

---
We travelled into the city, picking up a good number of passengers at each stop. There were only half
a dozen or so tram fans on board so we hadn't caused an inappropriate loading. There were no seats
left after stop 17 and we didn't pick up after stop 12 as it was getting quite squeezy..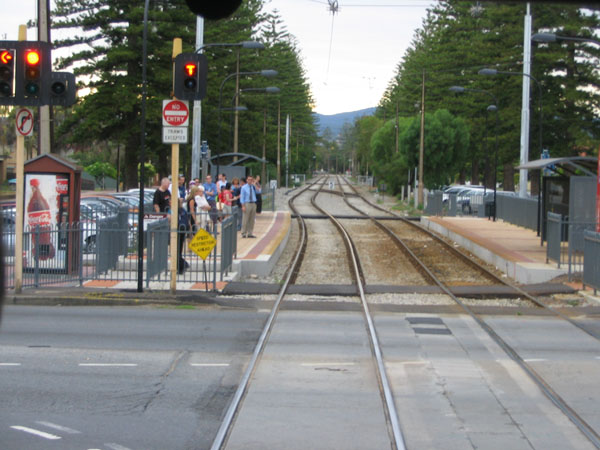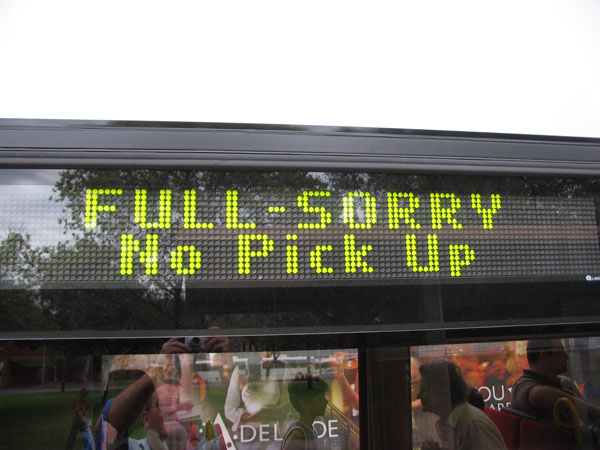 ---
Jetty Rd Glenelg ...

More Jetty Rd action, sorry about the lack of focus on this next one. The "H" has just crossed Brighton Rd.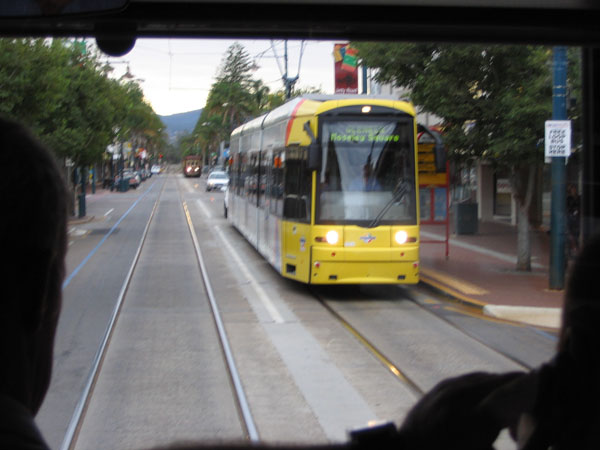 ---
City terminus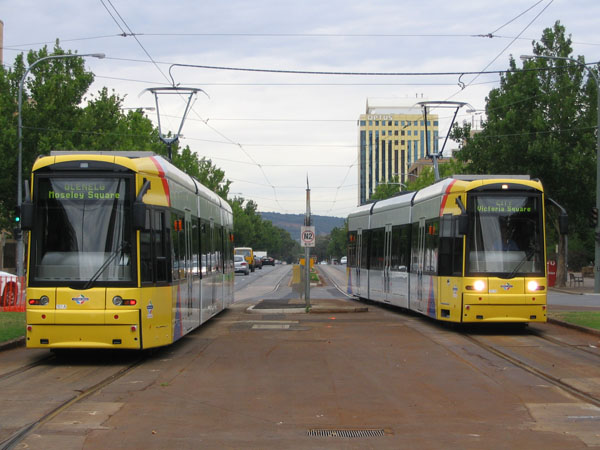 ---
Down from the flyover at Goodwood.

---
Left hand curve leads to the depot just over Maxwell Tce. Note the speed sign

---
Tram (and style) guru "Rod" with bag of goodies handed out to first passengers

---
Flexity 104 moving around in the depot

The End.